SASA and the Serbian Armed Forces – custodians of fundamental values
09. 03. 2018
SASA President, Academician Vladimir S. Kostić and Rector of the University of Defence, Major General Prof. Mladen Vuruna, have signed today a protocol on cooperation between the two institutions in the presence of Defence Minister Aleksandar Vulin.

On that occasion, Minister Vulin reminded that the Serbian Academy of Sciences and Arts and the Serbian Armed Forces are the two most valued, and maybe the most beloved and most respected institutions among our people.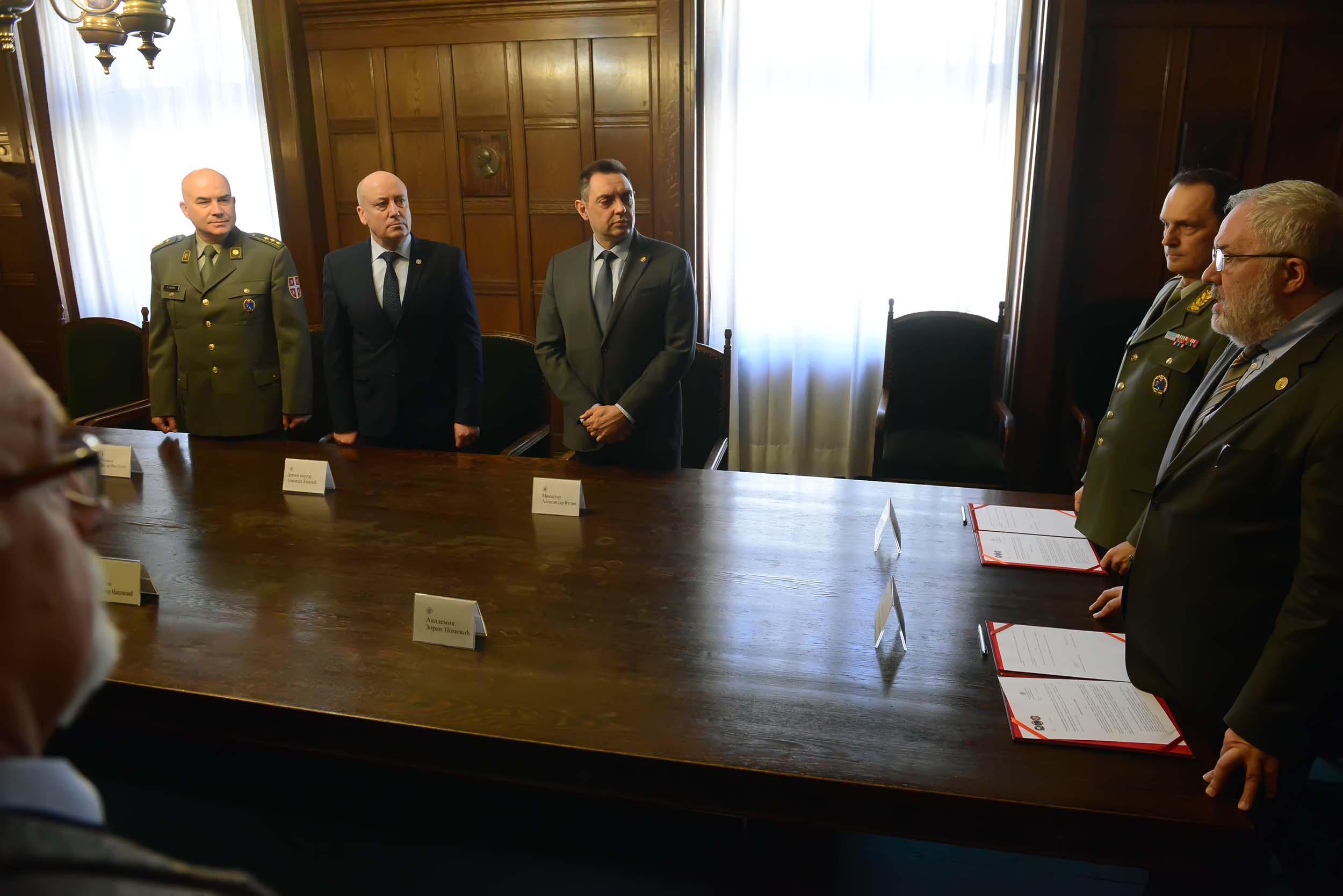 - The Serbian Academy of Sciences and Arts has honored us by recognizing the importance of the Serbian Armed Forces, not only the Serbian Armed Forces as a defence institution of this country, but also as an institution dealing with reflection, dealing with science, an institution that has the need to educate and to improve its knowledge. It is both on the Serbian Academy of Sciences and Arts and on the Serbian Armed Forces to continue to be the guardians of the fundamental values that have made this people great and that have made this people worthy of remembering and worthy of existence – Minister of Defence emphasized, adding that there is no free people without an Academy and the Armed Forces.
 
– For SASA and the Serbian Armed Forces this will be the beginning of cooperation, i.e., formalisation of what has always existed in the history, namely that these two big, important and beloved institutions in our people are striving to a better, more secure and happy Serbia – Minister Vulin concluded.
 
Speaking about the significance of the signed protocol, Academician Kostić emphasized that the Serbian Academy of Sciences and Arts in its role of a national institution is also linked with other national institutions and cooperation with the Serbian Armed Forces is a strategic step forward.
 
- There is certainly a huge number of topics that can be shared, because it is an illusion that an institution in Serbia can have all the wisdom and all the knowledge needed to answer also the questions about our identity, but more importantly, our future. This type of network that we are trying to build together and to actually help one another in finding the best answers is, I think, a "civilisational" problem. It existed before, we did not invent it, but it seems to me that we are moving in this direction more intensively – Academician Kostić said, expressing his satisfaction with today's signing of the agreement on behalf of that institution.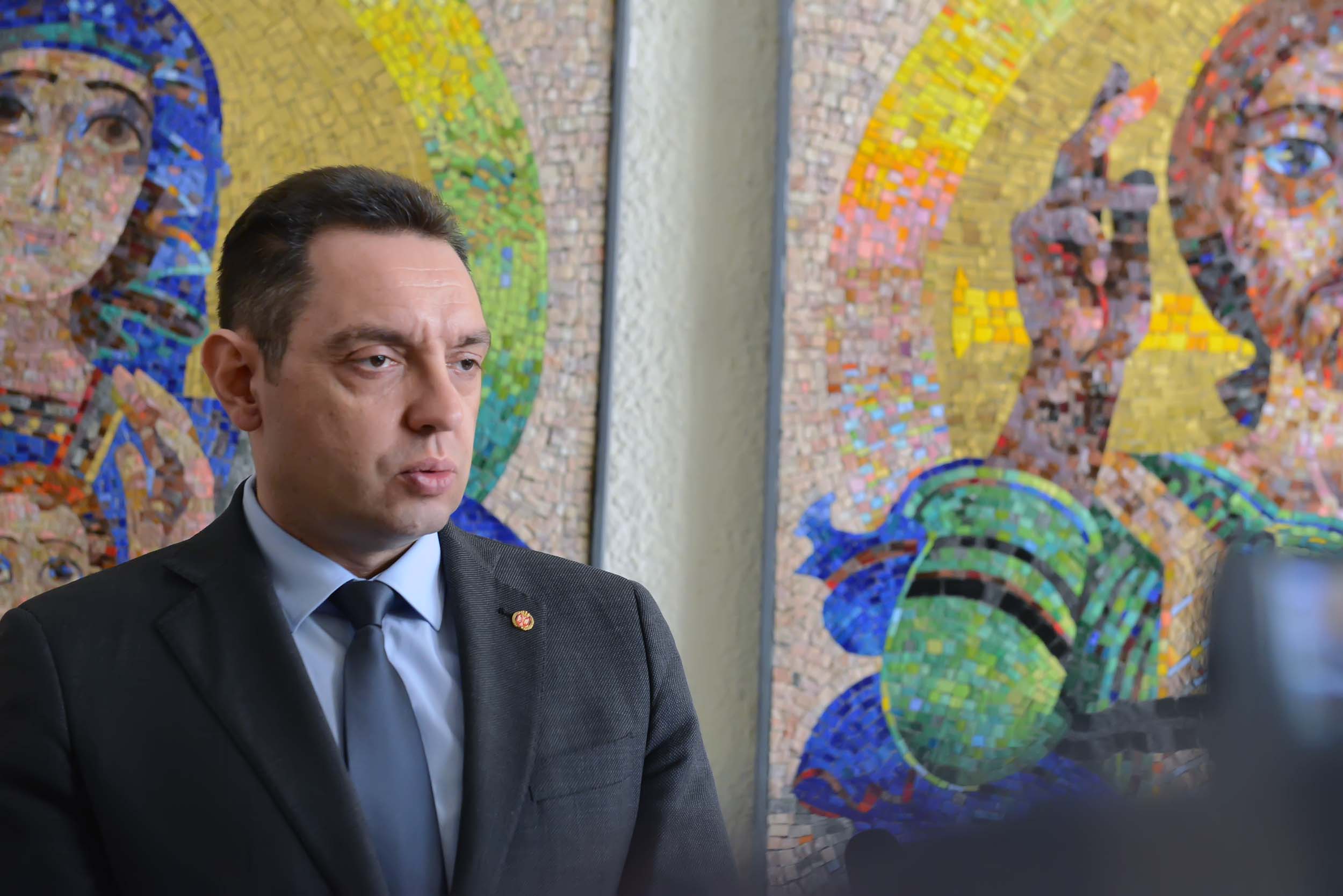 According to General Vuruna, SASA has always had an important place in military education, and this is evidenced by the fact that the barracks, in which the Defence University and the Military Academy are located, are named after an academician and a general Jovan Mišković.

- Today we have signed a contract, an agreement that gives an excellent framework for deepening our cooperation. We have already discussed and agreed to form a mixed committee that will define common areas of cooperation. What is important to us is to make our military sciences – defence strategy, operations, tactics, command and logistics – visible with the help of the SASA, and to strengthen those sciences. I am sure that we can contribute to the development and work of the SASA as well. This year already, at a scientific meeting, we will participate and show how our military science can help us both in interpreting the past and in clarifying some future time – General Vuruna emphasized, adding that it is a very important agreement that is the basis for a fruitful work.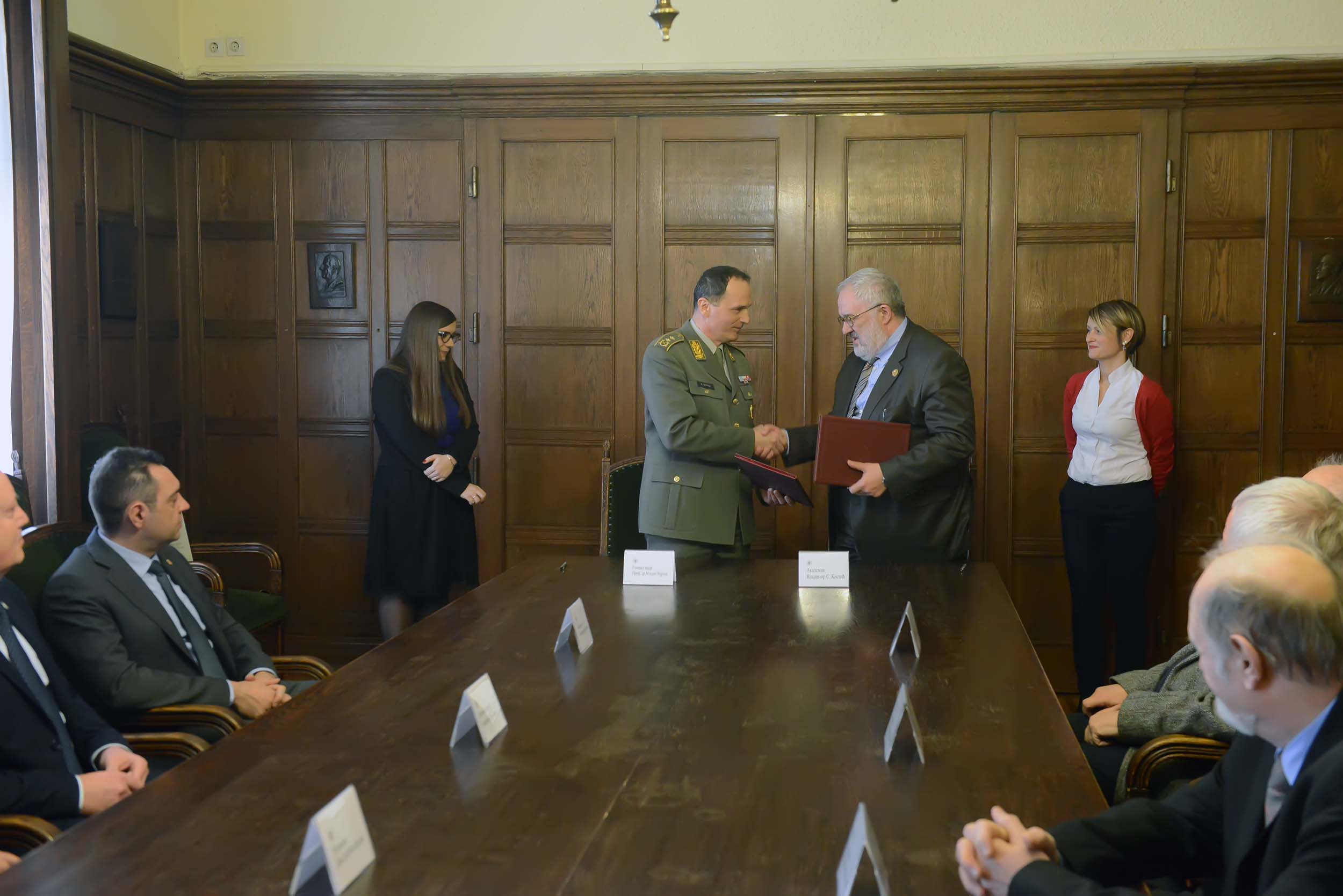 This is a protocol that will enable the attainment of the objectives of importance for science and education in the Republic of Serbia, the protection of scientific material, the promotion of scientific careers, as well as other goals of importance for the development of science and education in the Republic of Serbia.


Posted in Section: